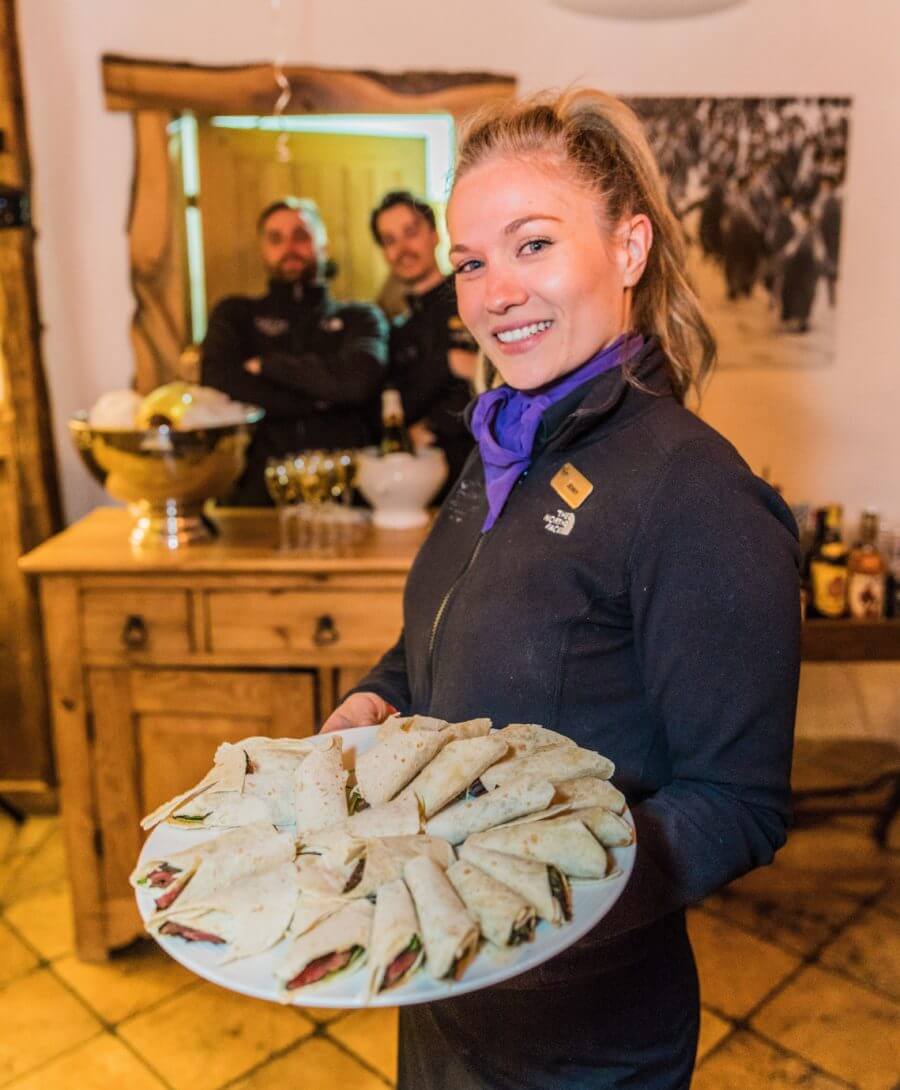 LIFE IN A SKI RESORT – THE INS AND OUTS OF SEASONAIRE LIFE WITH LE CHARDON
As our 2019/20 ski season recruitment drive is mid swing and we merrily sift through CVs, we share a few nuggets of inspiration on what it's like to work a ski season in Val d'Isere.
WHO WORKS A SKI SEASON?
Expect a work hard, play hard crowd, with a passion for skiing and snowboarding. At Le Chardon, our staff tend to be more mature than on average with a professional outlook, natural inclination towards customer service excellence and a thirst to try something different.
Many are professionals from other walks of life, keen to experience a break from the rat race, with the added bonus of a beautiful mountain backdrop. Others are taking a break before university or afterwards, eager to explore alternative lifestyles. Several are from the hospitality sector looking to add broader experience to their CV. Obsessive ski behaviour features highly on the list of attributes.
WHAT IS LIFE LIKE IN A SKI RESORT, LIKE VAL D'ISERE?
Naturally, this varies from resort to resort. But Val d'Isere is popular for a number of reasons:
It's big enough to keep you sane with plenty of amenities (shops, cafes, cinema, swimming pool, gym and so on) so you can avoid cabin fever, a common complaint in smaller resorts, but it's not so enormous that you feel overwhelmed.
Its extensive ski terrain – with the expansive Espace Killy domain, you'll really struggle to get bored. Note: all our staff receive a full area pass for the entire season. There's plenty of accessible off piste and with a wide ranging teaching network and equipment shops you can try your hand at a new ski variant – telemark or touring for example.
Lively events programme – there is always something on in resort from Altiglisse (sledging and ski competition antics) to the Adventure Film Festival. There's even yoga, art and sculpture, plenty of occasions for fireworks and the annual FrostGun big air competition is an incredible heart-stopping spectacle to behold!
The apres-ski is some of the best in the Alps with the renowned Folie Douce still belting out the tunes on the slopes. Meanwhile Cocorico, an increasingly popular alternative as well as all the usual village haunts.
WHAT DOES A TYPICAL WEEK LOOK LIKE?
The life of a ski seasonaire tends to fall into a pattern that starts and ends with the infamous 'transfer day' – when your guests from the week before depart and new ones arrive. The truth is 'transfer day' is not for the fainthearted – there's a lot to get through but it's truly rewarding when guests are settled in on the first night, delighted at the standard of cuisine and care, as well as the incredibly welcoming staff.
Life revolves around two axes primarily – working and skiing. When you're working, you're endeavouring to ensure your guests are cared for in every way – whether it's driving them into the village to meet ski school / setting up breakfast / serving canapes and so on. When guests are off skiing and the chalet is spotless, you're off to the slopes as soon as you can get there – although when the conditions are poor, you're likely to give yourself a break as you can pick and choose from the 150 or so days on offer! Inevitably the evenings will hold some play time too.
WHICH POSITION WOULD SUIT ME?
We have a variety of positions available. However, all our recruits share one important quality and that is: a passion for service excellence – going above and beyond to delight our guests at every opportunity.
Obviously, you will need to be qualified and have relevant experience for each of these roles but it's also worth thinking about the nature of the job.
If you like spending your time outside, meeting a variety of guests rather than a select few from one chalet, then you may like to consider a chauffeur position. As well as simple chalet maintenance duties, you will need to help guests in and out of our vehicles and manage their skis. Expect to work a mixture of day shifts and split shifts. At least once a week, you'll drive to the airport to pick up guests and enjoy a brief reminder of life outside a ski resort!
Dedicated to one chalet, as a chalet host, you will often get to know your guests intimately – their favourite drink, personal tastes and preferences. A chalet host role is well suited to the individual with high standards of care, who is extremely perceptive and enjoys building relationships and focusing their attention within one defined domain
This role is ideal for the individual with chalet hosting experience who wants to take on more responsibility, such as team management and budgets. Naturally there's a little more paperwork to do, but with added authority, you are well placed to influence management decisions in your weekly management meeting. This person will need to tread the fine line between motivating chalet staff and ensuring they meet the high standards that are expected of all. The good news is, as a chalet manager, you are rewarded with a higher salary.
The life of a city chef is typically hard graft at the behest of a temperamental boss and unsociable hours. Fortunately, a chef in a ski resort comes with benefits – you are your own boss. You manage your own budgets and are completely at liberty to flex your creative flair, designing and planning your own menus, according to guest preferences from week to week. Creativity is welcomed, as is using the finest ingredients. In short, you'll be responsible for creating five star, five course meals, but provided you manage your time well, you'll have plenty of time in the day to enjoy welcome ski time
There, in a nutshell, is all you need to know about life in a ski resort. Interested?
If you're interested in joining our team, watch this video to get an idea of what is involved and the wonderful opportunities that are available.
All of our vacancies for next season can be viewed here.
For more information, please contact the team directly.
Email: hr@lechardonvaldisere.com
Phone: +44 (0) 131 209 7969
We look forward to hearing from you.