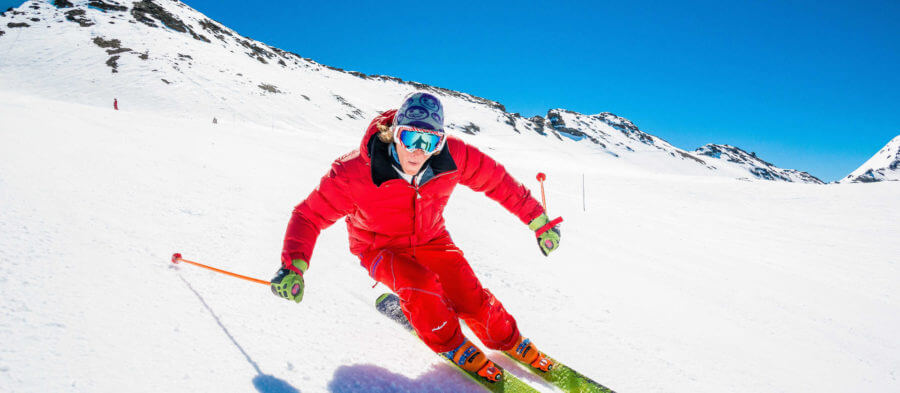 Expert's guide to skiing in Val d'Isère
Years back, Val d'Isère had a reputation as a steep resort for good skiers. While these days there is far more to offer beginners and intermediates, it's when you start to get good at attacking the black pistes that this resort really comes into its own. While Val d'Isère might not attract the same type of gnarly skier as Chamonix — the type who won't go out without ropes, ice axe and crampons — it is, without doubt, one of the greatest places for experts to ski in the world.
With World Cup pistes, open powder fields, fantastic itineraries, couloirs and plenty of lift-served off-piste, Val d'Isère offers a massive range of terrain — enough to keep you interested for several weeks if not months, not just a couple of days.
"Simply the best for experts" says Where to Ski in France author Chris Gill, his words echoed by fellow ski journalist and Val d'Isère expert Peter Hardy, who says the resort is one of the greatest places to ski in the world — not just by reputation.
Pistes for experts to tackle
If you know what you're doing, there's a number of must-do pistes to be skied in Val d'Isère, which start with the famous Face de Bellevarde — or simply known as "La Face". Site of the 1992 Olympic men's downhill, this has a fabulous vertical from 2,900m to 1,550m finishing in the village centre — and if you hit it at the right time of day, when it's well groomed and slightly softened by the sun, La Face is an absolute blast. Stop halfway down for lunch or a shot of genepi at La Peu de Vache, advises Raphael Evin, head ski instructor at Oxygene ski school in Val d'Isère — it's the number one restaurant in resort according to Trip Advisor.
The "OK Coupe du Monde" is another to tackle, the slope used for the women's World Cup that runs all the way down to La Daille from the top of Bellevarde.
Naturide runs
Val d'Isère has a number of 'naturide' runs, which are steep, un-pisted black runs in patrolled areas; they're a good way to more safely practice your off-piste and progress to trying some of the resort's fabulous lift-served and hike-to off-piste terrain. They're dotted black on the piste map.
A good naturide to start with is the Marmottons Naturide off the Manchet chair on Solaise — it's not too steep for most of the run, though gets more challenging towards the end. At Le Fornet, the Forêt is good naturide through the woods — especially fun to ski on a snowy day.
Or for a real challenge, try Les Pauls du Charvet, a run that will destroy your legs — when it's groomed you realise its steepness, says Raphael Evin from Oxygene: "It's steeper than La Face".
A classic expert ski day in Val d'Isère 
"If you're feeling energetic, it's possible to aim to cover all four corners of the resort," says Raphael, who regularly guides expert skiers around the Espace Killy. "After a hearty breakfast and several coffees — which Le Chardon will supply in full — start by taking the Telecabine de Solaise to the top of Solaise. Ski Lac-Parc for a warm-up, then take your pick of the blues — Glaciers Plan Milet or Leissieres — and saunter down to the Germain Mattis, a red through the trees."
Grab the Laisant chair and you could stop at Le Signal for a drink, or plough on to the Forêt and then take the Fornet cable car followed by the Vallon up to the Col De L'Iseran, 2762m.
"Head to the Bar de l'Ouillette for a BBQ lunch in the sun after a ride on the stomach-churning up-and-over Leissieres chair," continues Raphael. "Just take it easy after your tropical lunch, with an easy run down the Plan and Piste M before taking the Olympic lift to the Rocher de Bellevarde, and head to the Borsat. Next up the Grand Pre lift and take another easy run, the Grand Pre, to ride the Fontaine Froide back to the top of the Rocher de Bellevarde."
Now you're heading for home — and the final run of the day should always be Orange, says Raphael. "It's one of the longest runs in the resort, ending with the beautiful afternoon light shining through the trees in La Daille."
Off-piste — tread carefully
"At the top of every chair lift there's a classic line to take off-piste," says Raphael — but warns that skiers must never tackle any of the un-pisted runs without an avalanche transceiver, shovel and probe — and ideally a guide. Val d'Isère has a well-deserved reputation for expert skiers but even experts need knowledge, as well as skills and safety equipment, to tackle its riches.