As 2017 broke, the skies of Val d'Isere erupted with fireworks, not snowflakes, but just weeks later, the snow cloud gods of the skies spat forth shower upon shower of soft, white fluff – an ice cream duvet that coated every tree, stone and slope much to the delight of eager alpine skiers.
Actually, Val d'Isere was one of the resorts to enjoy excellent pre-season snowfall and while newspapers lambasted green hillsides, Espace Killy, yet again, was one of the best skiing destinations in the whole of the Alps in December. A chat with the locals reveals it's geographic. For some glorious meteorological reason that eludes me, the clouds rise above Val d'Isere and discharge their snowy loads before moving onto pastures new – time and time again. Somewhat unfairly, Val d'Isere gets more than its fair share of fabulous ski conditions. There lies the reason the lifts open at the end of November every year!
So as the excesses of New Year drained away in favour of resolutions and diets, strictly unenforced at Le Chardon we might add, excitement was building at the prospect of fresh powder.
As luck would have it, Friday 13th January was clearly confused as the powder started falling in true blizzard formation – with only 50 yards of visibility and slippery roads, our drivers certainly felt Friday 13th was a mixed blessing!
Digging out Le Chardon terrace is always a treat.
Some of our guests felt the need to make the most of the juxtaposition of a deep, fluffy snow blanket alongside our toasty bubbling cauldron that we call a hot tub.
And the snow kept on falling until at last a blue sky day of heavenly proportions!
On these types of days, Le Chardon's luxury proposition which includes full concierge comes into its own. Beyond the comfort of the chalet, Le Chardon can organise ski guides, off piste equipment, heli assisted ski touring – an itinerary to suit the conditions and the occasion.
We had originally planned to go ski touring but in actual fact with oodles of powder begging to be carved up accessible from almost every lift, we opted for a straight forward off piste day with a ski guide who was also a qualified ski instructor, Jerome Barry of Top Ski. Now when there's so much snow just next to a piste, it's tempting to go exploring on the hoof, but a ski guide will always find the best slopes and more importantly, the safest.
Equipped with ABS backpack, shovel, probe, transceivers and gorgeous fat skis from Pure Ski in the village, we were ready to tackle the 'back country' and immediately reassured we were taking the safest approach as the pisteurs' blasts ricocheted around the peaks. Under Jerome's careful appraising eye we took no chances as we traversed a slope just moments from the piste where deep wind slab cracks were plainly visible.
The rewards were worth their weight in gold!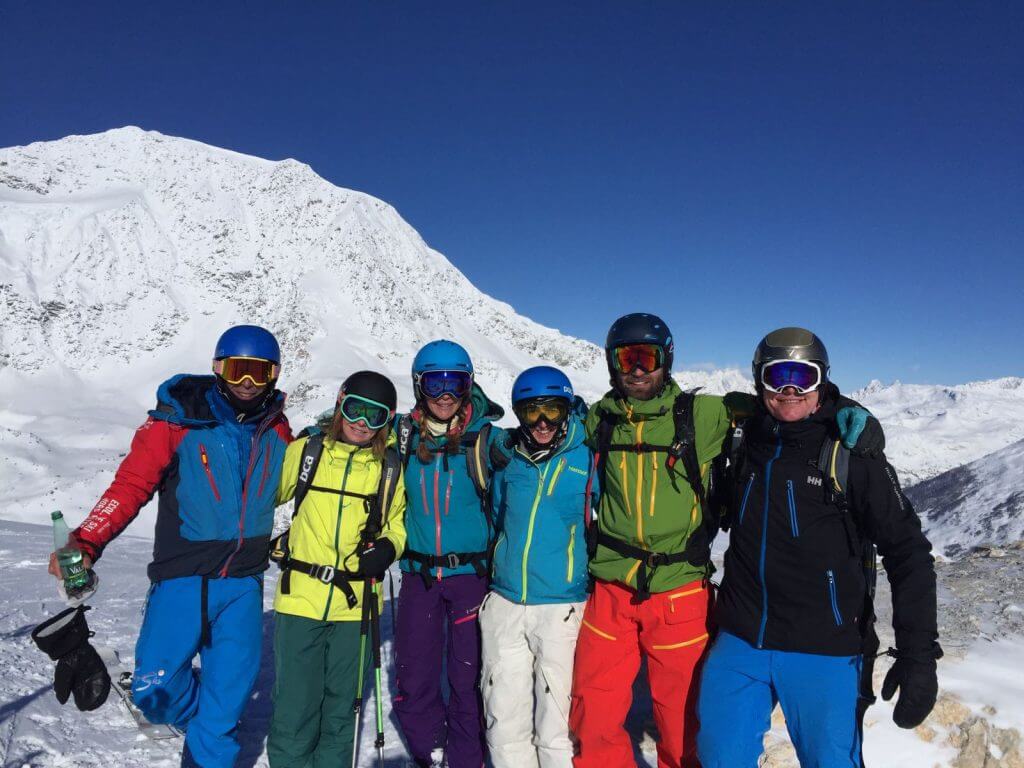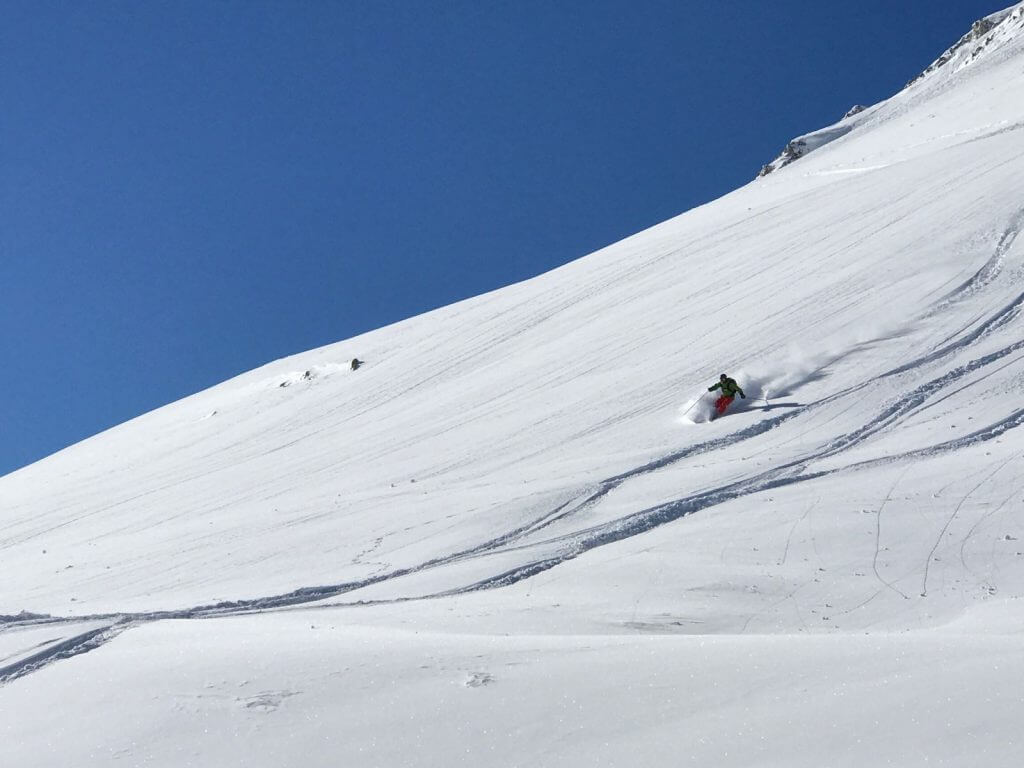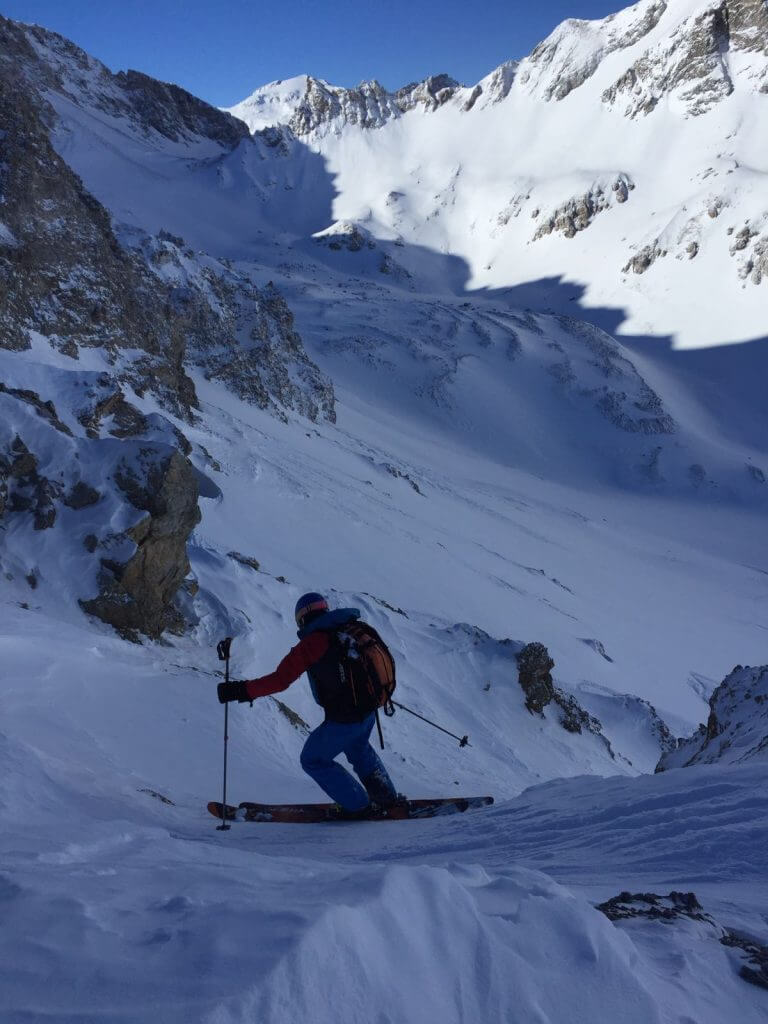 Untracked, undulating slopes there for the taking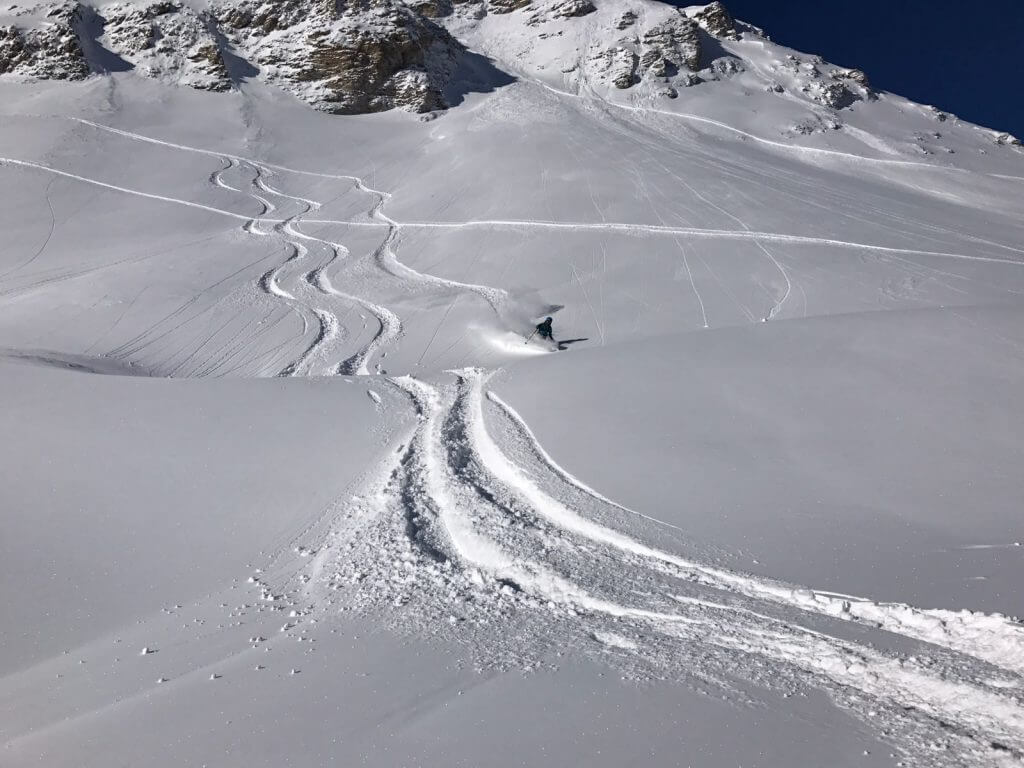 The pattern was set. Tiny hike, traverse, descend… hike, traverse, descend, leaving gorgeous uniform snakey trails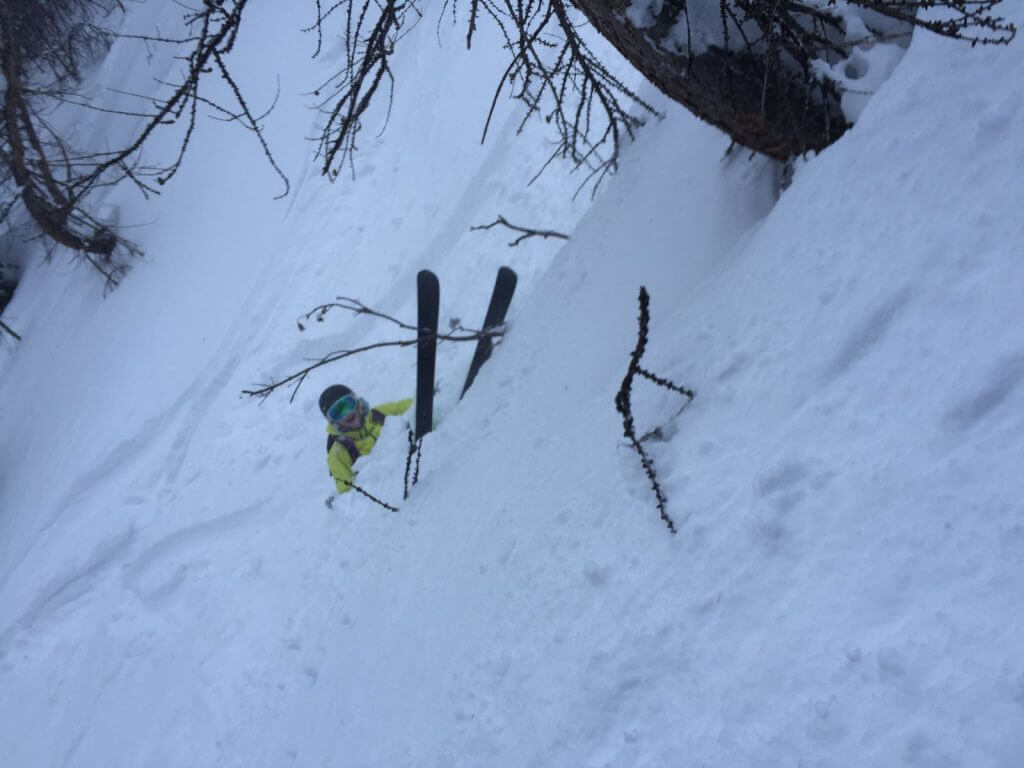 And the odd splat…
Off piste ski technique is a little different from the piste – more bounce required, treating both your skis as one, even weight distribution, more centred body position – it was good to have the benefit of instruction as well as guiding. Little did the rest of the group know I used to be nicknamed 'Theresa Tumble' by my kind, thoughtful siblings.
Naturally they worked this out pretty quickly.
If I'd thought we might stop for a spot of lunch or perhaps a snack, I was squarely wrong. It's not often you get conditions like this and we made the most of each…and every…single mountainside across the Espace Killy Domaine! Exhausted, it will indelibly remain one of life's finest days' skiing in great company and with the perfect itinerary.
Concierge from Le Chardon
A day of guided off piste / ski touring with all equipment including off piste skis, skins, transceiver, shovel, probe and ABS bag costs €187.50 per person based on a group of 4.
A day's heli assisted ski with guide, helicopter and all equipment as above based on a group of 4 costs €280 per person.