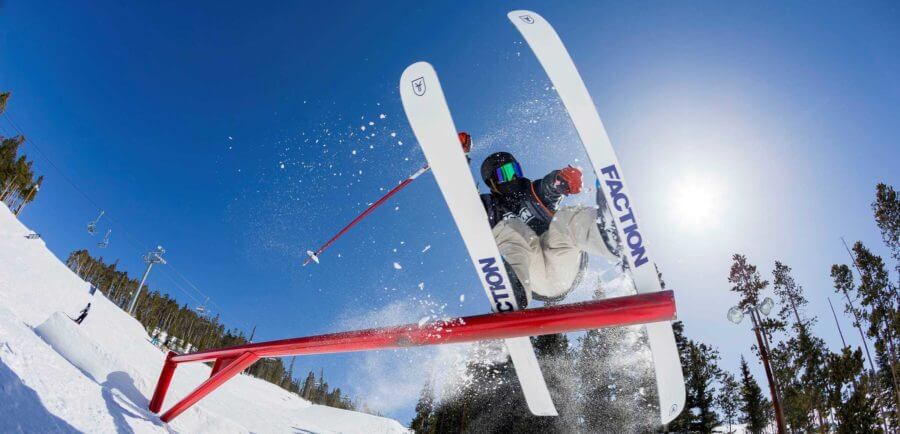 Interview with Faction Skis
Le Chardon Mountain Lodges had the pleasure of catching up with Alex Hoye, Co-Founder and CEO of Factions Skis, to hear directly from him the ins and out of this exceptional brand. It has been one of the fastest-growing independent ski brand in the world since 2012, with sales of 30,000 pairs in 2018.
When was Faction born and what was your inspiration for starting?
Alex had dipped in and out snowboarding, so that he could make the most of the terrain and technology available - it seemed that snowboarders were having all the fun. That was until 2006 when he met Tony McWilliam (Faction Skis Co-Founder) in Verbier, Switzerland. At this time, snowboarding was the predominant sport and the board industry's shapes and technology was changing the way boarders could enjoy the mountain.  Alex and Tony were skiers who wanted to remain on skis.
The idea to start their own company came about because they were inspired by board sports and thought they could bring the same excitement and innovation back into the ski industry. They focused on bringing quality to the product and design, and pulled ideas from snowboarding that they loved, such as the rocker and other materials. It was important to bring life into what they were creating, which is why the project was focused on skis - a product that could speak for itself.
Alex previously ran a digital marketing agency which taught him the benefits of reaching people directly and engaging with consumers every day through online chat. His next experience at Disney was working in the film department, which supported the ideas for creating stories for the brand and making films. The dream was really able to take off because, even with small budgets, technology allowed them to create films that could aid and reflect the brand. The attachment of talented athletes, steady cams and drones, allowed him to ensure the focus of the story was the product.
What and who is Faction?
Faction is a disruptive ski and outdoor clothing brand making heads turn. In January at the X-Games in Aspen Faction athletes won an astounding seven medals. Kelly Sildaru scored an un precedented 99 and became the first athlete to have ever won three medals in one single X-Games. Alex Hall beat a super-talented field in the men's slopestyle, and Sarah Hoefflin, Mathilde Gremaud and Alex Ferreira all took home medals too. It is not all about medals and competitions – they're big fans of the big mountain too, but Alex comments that it is gratifying to see their products and team lighting up the crowds at the highest level of competition in the world.
Faction is more than just skis and athletes. It's a collective focused on quality and enabling people to push their limits and get out into nature on gear that means something to them.
What makes Faction stand out from competitors?
Faction is international. The company is made up of 29 people form 9 different countries, selling into 35 countries and growing across them. Unlike many, both the design and R&D happens in Verbier, where the head office is, and in Innsbruck, where the manufacturing takes place in Czech Republic and Austria. Alex explains that it's the combination of engaging with skiers and fans directly through social media and skipping the extra layer that working with a marketing agency would add that makes the rea difference. He goes on to say, that being very close to the production and in total control with the innovation and design processes makes Faction more agile and ensures the product development matches what people demand. Afterall, "life is too short to not have fun," exclaims Alex.
In your opinion, what makes the perfect ski?
"The perfect ski depends on the moment and the person," states Alex. He outlines that some skis are multi-purpose, but most are going to suit a place or a person better than others. He believes (and so do we!) that all conditions are good conditions, and that it's about getting out there every day. Hence there will always be a different perfect ski for different reasons.
What are the main priorities of the business?
Last year, it was about scaling up the production and quality to enable Faction Skis to match quality standards. Next year, it is going to be more about premium and rental.
Recently though, investment has been Faction's core focus and they closed a £4 million investment round in December, with 40 existing investors, and 39 new investors; offering the added incentive that it is EIS-qualifying for UK investors. This year they also reached their £500,000 target on a Crowdcube raise within 12 days, however, the campaign is still ongoing. Faction has always had a unique shareholder story; Octopus Ventures has invested in it and supported its growth since 2012, but the majority of its backing has come from over £10 million invested by angel investors, who are all part of the 'Faction Collective.'
Can you tell us where the video series is going next and highlight their importance for the brand?
There has been a continuous releasing of segments filmed last year, like the wild of skiing in 'British Columbia' that was launched near the start of the season 2018/19. Alex describes how it was that dream land place to film because it's where everyone wants to go! They are filming now in Japan, Georgia and other exciting places which will all be released in Spring. Alex expresses the great importance of the video series because they allow Faction's fans to be more involved in the storytelling and message of Faction Skis. Here, he can bring his experience from Disney to really push and expand the brand through the video series.
How important are your team of 21 athletes to the brand?
The athletes are incredibly important to the brand. Ironically, the decision early on was that Faction wouldn't work with athletes, but as the athletes started to approach them, they were keen to give it a go. Today, and especially through social media, athletes are able to quickly find, relate and associate with the brand. Faction has built a model, where they create wonderful films with a group of athletes that really act like a team. Alex is delighted with the Faction team because they all compete very well and equally just enjoy getting out and ripping!
Who are your customers?
Today, Faction's customers are people who know quality and know their skiing. Alex breaks it down for us explaining that they have the 15 to 25-year olds who are super excited about skiing and the brand, and then the over 25-year olds who want the best quality and skis they can get enthusiastic about.
Alex also shares here, that he enjoys getting out and skiing with the Faction collective, including both fans and investors, potential as well as existing. They have an annual investors meeting with pro skiers to test out next year's equipment, and this is important to Alex, who wants to build a company that people want to be a part of, because the angel investors need to enjoy the business.
What's next?
FW apparel that goes beyond skiing. They have samples now and are working with retailers to launch in store. It will be focused around alpine living. They've even hired a Sales Director and an Apparel Brand Director, who comes with experience from top brands such as Nørrona, Salewa, Millet.
Fondest ski memory
Alex laughs and tells us it was probably the time when he skied with Candide Thovex in China - he was pushed into hitting a jump beyond his skillset, and Candide just laughed at him afterwards, while they carried out their afternoon skiing.
Proudest Faction moment to date
"First time I saw someone with Faction skis on! And secondly, reaching 30,000 pairs sold in 2018. That was a pretty big moment."
Favourite thing about Val d'Isere
"I took 50 friends to Val d'Isere back in 2011 and it just felt like a fairy tale place. You're pretty far away once you're there, but it's a very welcoming resort, lots of wonderful terrain and close to Tignes."