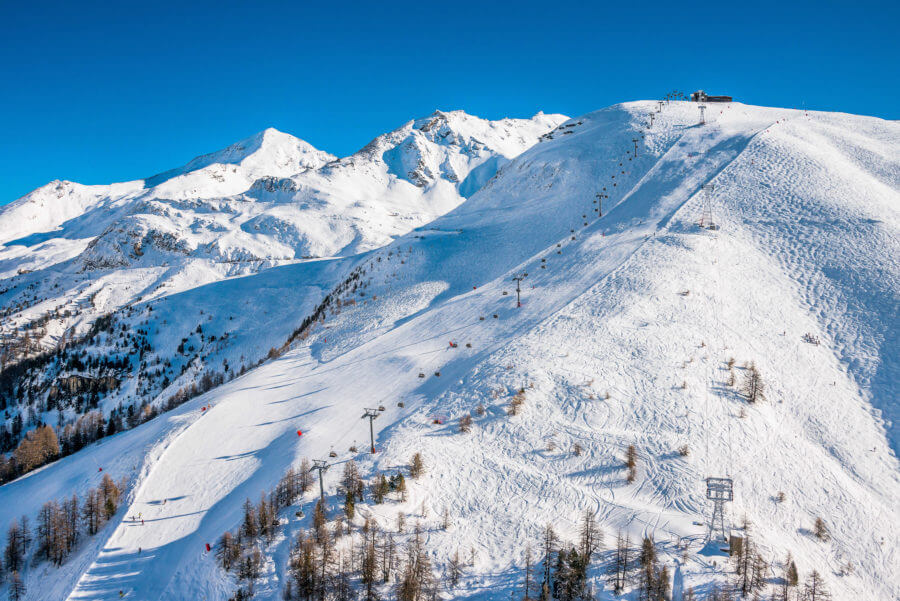 05 Oct

9 of the Best Ski Resorts in the World – Le Chardon

9 of the Best Ski Resorts in the World

Whether you're looking to treat yourself or your family this ski season or you want to tick off your list of the top ski destinations, look no further.

Here, we have put together a list of 9 of the best ski resorts in the world and the reason why dedicated skiers travel there year after year. Plus some luxury ski chalets to make your time there extra special.

Whistler, Canada
Everybody goes to Whistler. Why? The snow here is the key appeal – more than 33 metres a year. The terrain has a heady mix of everything, from bowls full of the locally named "champagne powder" through to untamed mountainscapes that make you feel like you're the first to ski them.

Find luxury chalets in Whistler with the Oxford Ski Company.

Courchevel, France
It's the sheer volume of quality slopes that puts Courchevel at the top of the pile as a ski destination. 23 green, 34 blue, 32 red and 10 black runs between Courchevel and La Tania plus the rest of the Trois Vallées terrain nearby. 600km of pristine slopes in total, as well as challenging off-piste that is a draw for the adventurous.

Luxury ski chalets are available from Consensio Chalets.

Lech, Austria
Lech is not the easiest resort to get to, which is why it tends to be paparazzi-free. The clockwise circular White Ring ski route has been named, "the longest ski run in the world" by the locals but it's the red run from Muggengrat down into Zürs that is renowned for making you feel like the only skier on earth. Lech is also known for its gourmet cuisine and the tradition of dressing for dinner – something other resorts lost long ago.

Choose the luxury chalet for you from Bramble Ski.

Gstaad, Switzerland
Snow globe Alpine charm and a slower (but more elegant) pace of life than neighbouring St Moritz have given Gstaad a reputation as one of the best ski resorts in the world. You can take your pick when it comes to skiing in Gstaad with terrains from rolling hills to high altitude glacier runs. The Palace Hotel with its subtle A-list tally is the permanent reminder of the glamour that Gstaad still glitters with.

Make your trip extra special with private and secluded chalets from Haute Montagne

Val d'Isere, France
Val d'Isere combines stunning views and off piste featuring high glacier and huge snow fields with plenty of child friendly slopes and Europe's largest snow making facility. Double Michelin starred cuisine and exceptional après ski – as well as an enormous range of activities, from ice driving to parapente – give this French village the edge as one of the best ski resorts in the world.

Give yourself the perfect luxury get away with private catered chalets at Le Chardon Mountain Lodges.

Aspen, Colorado, USA
The Aspen Snowmass is made up of four linked but separate ski areas, perhaps the most challenging of which is Ajax (traversing it is a badge of honour for serious skiers). The terrain here is exceptional – it has played host to World Cup races for decades – and is particularly popular with advanced skiers and riders who love the bumps and steeps.

Find a luxury break with Aspen Luxury Vacation Rentals.

Davos, Switzerland
Davos is all about powder, powder and more powder. Apart from the fact that it was the starting location for Sir Arthur Conan Doyle's famous trip that saw him adventure all the way to Arosa, it's also renowned for ski variety – you can choose a different mountain to ski on every day.

You can find luxury ski chalets in Davos from Premium Switzerland

Zermatt, Switzerland
The Matterhorn looms over Zermatt, giving it character and charm and conditions that set this location apart as one of the best ski resorts in the world. It is a place of heritage hotels and fine dining restaurants plus 200km of pistes and skiing that continues almost all year round thanks to the altitude.

Find luxury chalets in Zermatt for your new trip to Matterhorn with Matterhorn Chalets.

Verbier, Switzerland
Off-piste skiing here is some of the best in Europe, particularly the utlra powdery Vallon d'Arby. Verbier also does fun by the ton, from tobogganing to nightlife. Plus, it's the perfect place to indulge in an unusual vintage or two – try the mountain wines from the vineyards of Valais in southern Switzerland.

For your next ski trip to Verbier, find a luxury lodge with Kings Avenue.

If you're looking for the perfect ski holiday, you'll also want the perfect accommodation. We know how important those luxury touches are. Luxury ski chalets will work with you to make your stay everything you need and more – so why not treat yourself to one of the luxury ski chalets listed here for your next ski trip? Le Chardon Mountain Lodges still have availability for Christmas and half term weeks. Contact us on +44 131 209 7969 to enquire.